Ball Pendants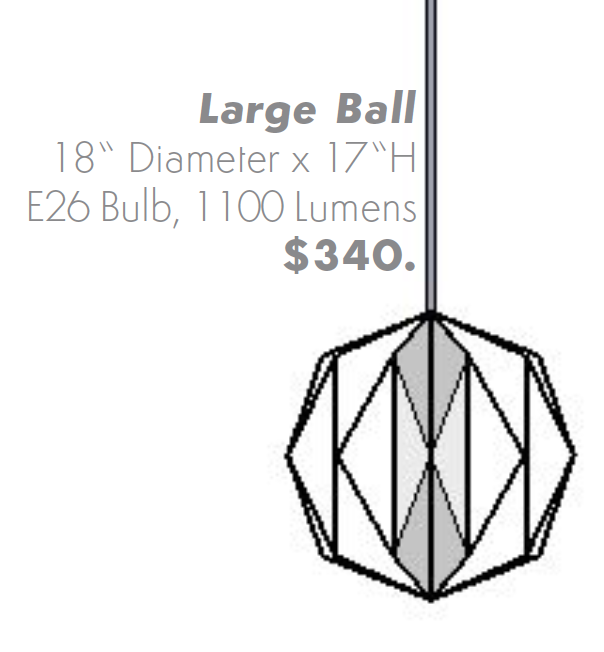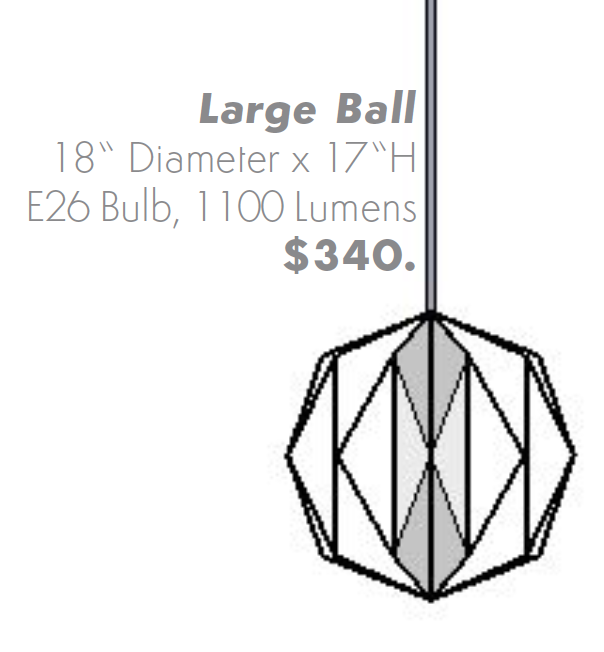 Ball Pendants
Our lighting is born from the desire to make efficient lamps that provide quality diffuse light. We call them Orikata meaning the way of folding.
The included ultra-efficient, warm, dimmable LED bulb combined with linen and a large surface area means fantastic light quality that costs you next to nothing to operate. Hand-made to order in California in the most sustainable manner we know. Click on the chart image to see available products, pricing, dimensions and lamping details. (or see the linesheet).
Satin polished brass canopies and grey fabric covered wire are standard (please contact us regarding pricing and availability of other custom finishes). Allow three weeks for production of standard orders.
Fixtures come with 72" or fabric covered wire that you can cut to length on install. If you have extra high ceilings and need additional length, send an e-mail with your order number (immediately after your order is placed) to michael@thecaliforniaworkshop.com stating how much additional wire you need.
If you want to do a swag installation (i.e. route the cable to an outlet using hooks), order the pendant you would like and select "no cover/swag kit" at check out. The swag kit includes 22' of wire, a rocker switch located 18" from the plug, two wood cleats and screws.
Please Note: The Jumbo size shades ship pre-folded but not "open". They are simply too large to ship economically. The shades will naturally take their shape when removed from the packaging and we recommend sewing the seam in place with a few simple stitches (needle and waxed linen string included).
To see chandeliers click here.